At the beginning of the year, we shot the latest 'Welcome to Shogun Territory' press campaign for Mitsubishi in a less than obvious location for a 4×4 shoot. The Isle of Skye was the location found for last year's campaign with it's incredible rocky landscapes forming the dramatic backdrop to the imagery. This year, agency and client wanted to maintain the drama and take the theme of 'Welcome to Shogun Territory' a little further, so the brief was to find an epic location with wild seas, coastal rocks and a lighthouse to give that remote feel.
For behind the scenes images and background to the shoot go to the January blog.
The coast of Scotland and Northern Brittany in France were initial thoughts, however, a couple of years back, I was on an island hopping cycle trip with some mates around the Channel Islands and came across a great location. At the time, I made a mental 'note to self' as you do as a photographer to hold that thought for the right shoot and this brief was the perfect fit!
So after all of the usual processes of approvals, production and planning, we ended up on a freezing cold North facing coastal location in January!
Hmmm…maybe not that well planned on reflection – perhaps July would have been better 😉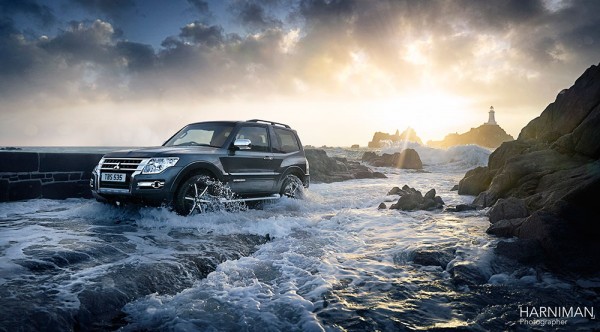 However, it was a great shoot – brilliant team effort – thanks to Darren, Dave, Dean, Rob, Steve, Frank, James & co…(and Gill back at base)
We had a really successful shoot, some good laughs along the way and hope all agree, a set of imagery that captured the essence of the brief…

Look out for the suite of images from the shoot in the press, on digi boards, billboards and online…and if you spot any when you are out & about, ping us over a quick snap!
Join me on Facebook and Instagram for updates & more behind the scenes.
Feel free to share on the social media icons below – thanks!