Here we go… shredding it large at Goodwood Speedweek.
When I was small I was always told that smoking was bad… but when it comes to drifting, apparently not… in the case of British Drifting Champion Steve 'Baggsy' Biagioni in the fire breathing LSXR35 and Formula Drift Champion Vaughan Gittin Jr in the Mustang Mach-E 1400.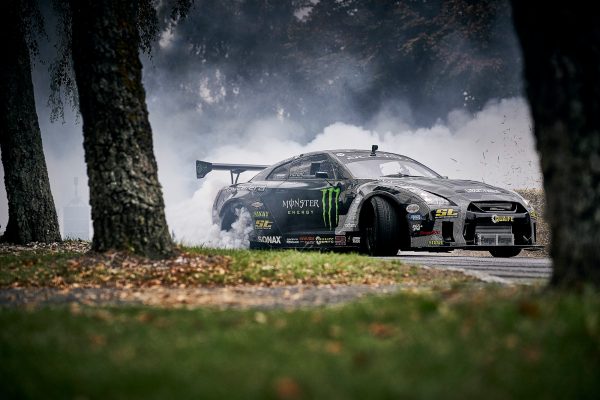 The 'Driftkhana' sessions showcased the insane skill of the drivers on the new custom Drift and Gymkhana style circuit layout.
The Pandemic has touched everyones lives in one way or another, none more than live events, hence no FoS or Revival this year at Goodwood.
What's the next best thing?
Well yeah, Speedweek!
No spectators during this year of Covid-19, but check out the TV coverage – there are some really special moments.
Don't think any of us were expecting to be at Goodwood at all in 2020, so it was great to be invited to shoot the hero light painting images for not only one, but three of the Collection Cars brought together for Speedweek over consecutive shoot nights.
So, first up, as Goodwood put it this is a 'howling concerto' of V12-powered Group C fury in the form of a rarely-seen gathering of Group C TWR Jaguars, spanning five years of era-defining endurance racing.
Star cars include the 1987 World Sportscar title-winning XJR8/9, and a 1990 XJR12 which is probably the most successful single Group C chassis, with victories including an assist in Martin Brundle's 1988 title win. Jarama-winning XJR-9 of and a veritable TWR Jaguar XJR army of Group C weaponry.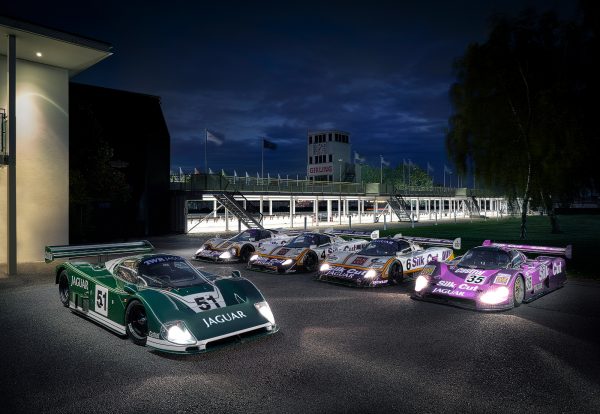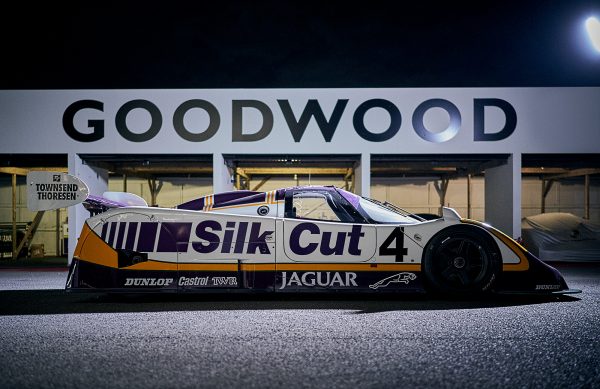 Night Two…
Porsche at Le Mans – 50th Anniversary of 1st win at Le Mans
A number of the Porsche Le Mans legends leading a 'high-speed family gathering'. The Le Mans-winning 917K that took that famous victory at La Sarthe in 1970 accompanies a selection of its winning successors including the back-to-back 1984 and 1985-winning 956B, the WSC-95, 911 GT1-98 and the latest Porsche victor, the 919 Hybrid.
This priceless Porsche procession closed out SpeedWeek, fittingly for these endurance titans, into the October dusk. A spectacular sight!
Seen here – 917, 936/81, 956B, WSC95, 911 GT1-98, 919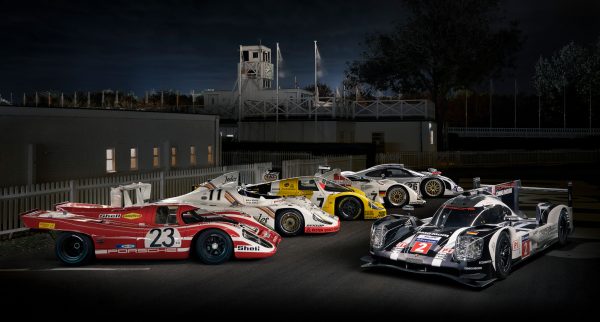 Third and final lightpainting from Speedweek 2020 …celebrating seven decades of F1 motor racing.
Nine cars are a challenge to shoot at the best of times, so…nine F1 cars at the end of a long race day when everyone is pretty keen to get back to their hotels for a well earned beer …
Goodwood brought together a once-in-a-lifetime collection from the early eras of F1, legendary Lotuses – an ex-Stirling Moss 18, ex-Graham Hill 49B, and two ex-Emerson Fittipaldi 72s clocking up wins at the Monaco, German, Spanish, South African, Italian, British, Belgian, Brazilian, Austrian and Argentinian Grands Prix.
A V10 screamer in the form of a McLaren-Mercedes MP4/15 from 2000, leading a selection of McLaren legends from the previous decades. From a decade later, the ultimate underdog of the modern F1 era – the 2009 Brawn-Mercedes BGP001 used by Jenson Button in all but one Grand Prix in his unforgettable championship-winning year.
Cars shot are…Lotus 49B, Lotus 72, McLaren M23, Lotus 79, Williams FW08, Brabham BT52, McLaren MP4/4, Brawn BGP001, Mercedes W08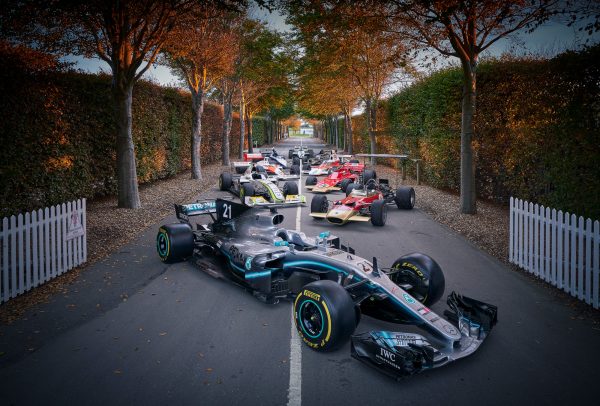 Having photographed a fair few celebrities over the years, I'm not normally 'star struck', but to meet legends of motor racing from childhood takes it into another league. Shot here – 'The Flying Scot' F1 legend and three times world champion, Sir Jackie Stewart, F1 and Indy 500 champion Emerson Fittipaldi, along with current F1 and FormulaE Mercedes driver Esteban Gutierrez.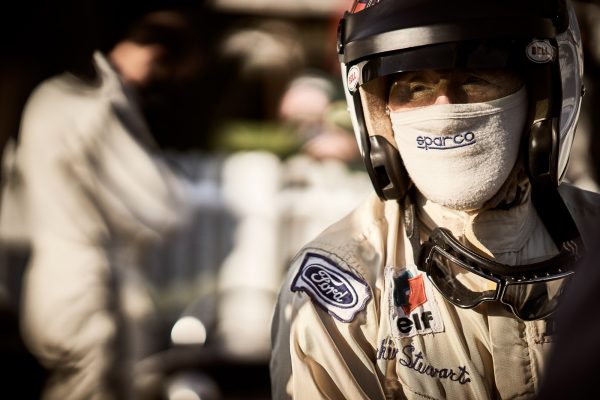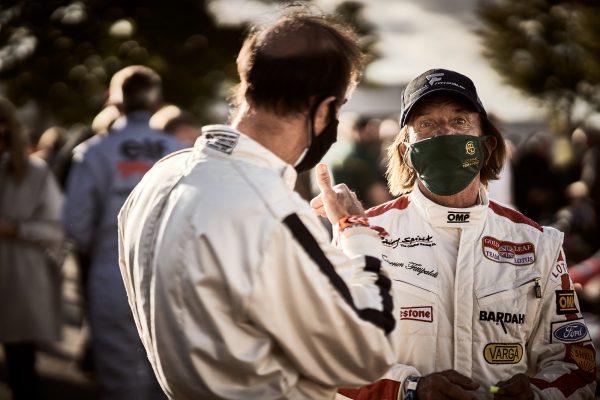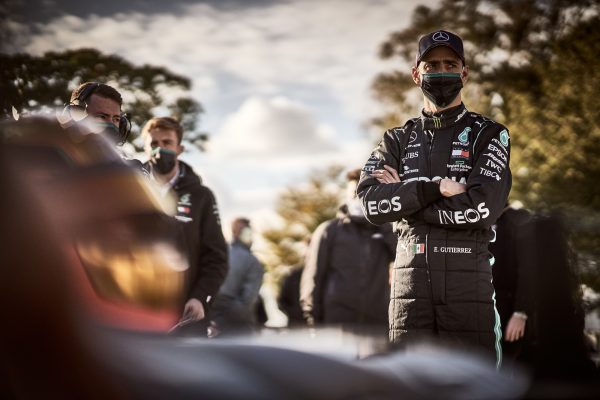 …as always, huge thanks to everyone involved, the amazing TWR Jaguar chaps – Motohistorics for coffee and banter, the Porsche teams, all of the F1 guys, and of course the Goodwood guys and gals for putting us all together!
Looking forward to seeing you all again, hopefully un-masked this time in 2021 🙂
If you would like to see & read more go to Goodwood social channels…
F1
https://www.goodwood.com/grr/event-coverage/goodwood-speedweek/2020/10/f1-heroes-descend-on-goodwood/
TWR Jaguar
https://www.goodwood.com/grr/event-coverage/goodwood-speedweek/2020/10/twr-jaguars-after-dark/
Join me on Facebook and Instagram for updates & more behind the scenes.
@harnimanphoto

@harnimanphoto

@harnimanphoto

@harnimanphoto

@harnimanphoto

@harnimanphoto

@harnimanphoto

@harnimanphoto

@harnimanphoto

@harnimanphoto

@harnimanphoto

@harnimanphoto

@harnimanphoto