Always when shooting cars I picture a personality. I see a replica of something human that allows me to visualise in a different way.
For the first time ever, in secrecy this week, I shot a car that didn't have any human qualities to display.
This is because it was quite simply, out of this world, with a price tag that would make many of us weak at the knees. Quite possibly the most expensive motor to date, I introduce a divine being, the Rolls-Royce Celestial Phantom!
Picture Stephen King's Christine then turn that image upside down, the opposite of the Devil car, this is a ride with wings.
Channel 4 documentary 'Inside Rolls-Royce' features this amazing car airing 9pm on 20/03/14 – check out a preview clip here
Look at the Stars, Look How They Shine for You!
Working with Goodwood's amazing bespoke design and craftsmanship in the studio, it was obvious that this heavenly machine had taken inspiration from the night sky. From the starlit shimmers of the diamond encrusted clock to the LEDs woven into the headlining mirroring the constellations exactly as they appear, it truly lives up to its name.
Floating on Cloud Nine
Everything about it screams (well, whispers) another life, whether that's playing a harp from a comfy cloud or winning the lottery ten times in a row. It harnesses everything we imagine about luxury, indulgence, pureness, elegance and class.
Money can buy happiness, it can buy the Celestial Phantom.
Under a Cloudless Sky
The leather, the hand stitching, the detail and even the engraved wheel centres exude the romance of a clear dark night. This one motor seems to own everything above ground level, staking a claim on everything ethereal and taking the best to use it in one incredible car. Dusky leather mirrors a cloudless night while a picnic set promises a feast. Aptly named "My Private Sky" this offers al fresco dining like no other with crystal etched flutes and hand painted plates that extend the ethereal feel.
If you've ever wondered what connects heaven and earth, take a trip to the Frankfurt Motor Show this week and see it with your own eyes, (or sit back and relax and look at my images instead).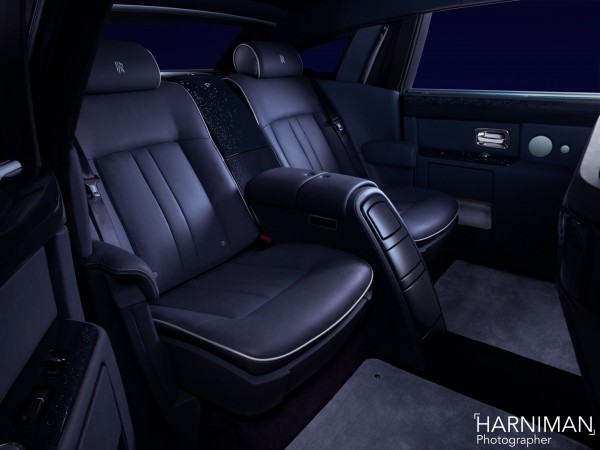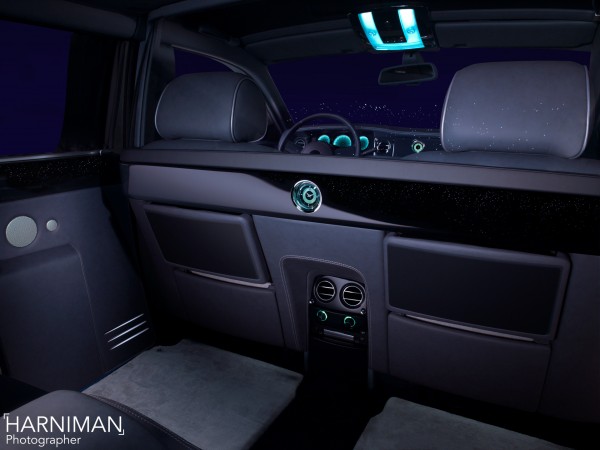 Feel free to share this article using the social media icons below