It's no secret that I've got a bit of a thing for engines. Whether it's a motorbike in need of TLC or the latest Lamborghini, there's a bond there that will never be broken. I've found, while travelling that this obsession is not uncommon as there are a lot of us out there that have this relationship that's hard to describe to those who don't have the bug.
Although some women love donning an overall and tinkering with an engine, in my years, for my sins, I've usually discovered its men that take this obsession to the next level. Fellow photographers for decades have tried to capture love on camera in a single shot, maybe if they'd replaced the woman with a machine they'd have found what they were looking for.
Forget Facebook – Machines Make Mates for Every Man
Before even saying a word when I feel an affinity with people who are in awe of their engines, as I can understand the all-consuming adoration that I've tried to capture on camera myself.
My time spent taking photos is usually on request but it hasn't always been that. There's still a lot of that bloke left that can't resist grabbing a scene and taking it home, just because I can. Photography is still a passion of mine that doesn't stop when the contracts end, it's fills my life, professional and personal just as my love of machines does.
This is why when hopping from place to place throughout England and Wales, I couldn't help but stop and smell the engine oil from time to time. As I came across real men, who were no strangers to a hard day's work, I asked if they'd like to be snapped by the Harniman.
Stopping to Smell the Engine Oil
It was the men and the machines that caught my imagination in these three pictures. In varying weathers, they're not grinning from ear to ear but you can see they're pretty content with the world just as it is.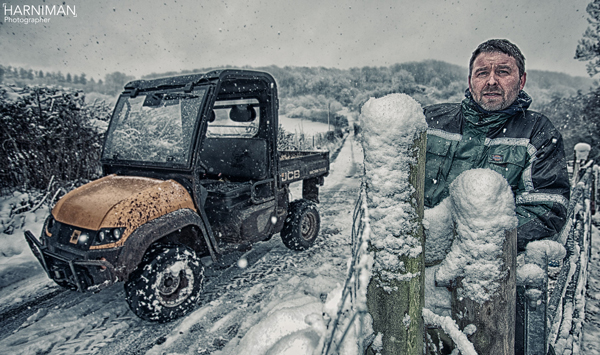 As one prepares to battle snow that would have a lot of us ringing in sick, he looks quietly confident as he knows his machine has got his back. Another, dressed in reflective gear is taking on the unenviable task of shifting coal from place to place, probably for ten hours a day. He's not moaning though, he's simply taking a minute's break from an honest day's work knowing he's not alone when he returns as the digger gives him the power he deserves.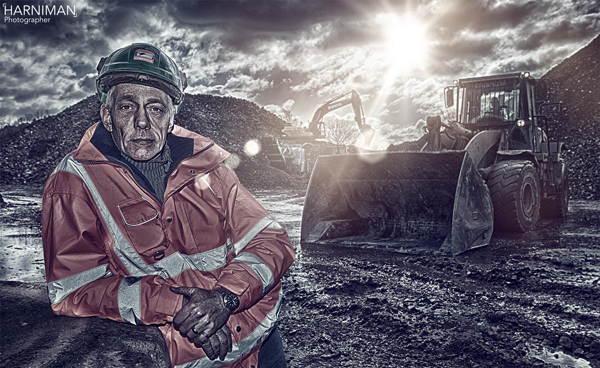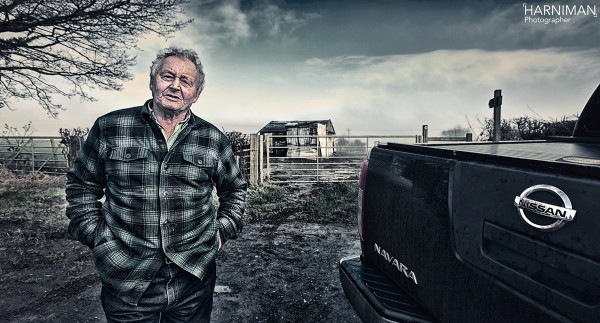 Although the third, with a stretch of the imagination, could be any chap simply enjoying the countryside with his Nissan pickup, somehow it's plain to see that this is a working day and there's a lot to be done.
It's this respect for their machines, friendship almost that I've wanted to capture and with the help of the men I met on my travels, I hope I've done it justice.
Finally, a commissioned piece shows two bonding over a 30's racing car that has seen better days. Seems I'm not the only one who feels a natural affinity with those who adore their engines, forget Facebook, men can always find mates when a machine is involved!
Barry Whizzo Williams, Shelsley Walsh Hill Climb