I like having fun with landscapes; with the natural world you can pull it, merge it and reshape it. Make it hyper-real and more beautiful or more sombre than it actually is.
With idealised, fabricated landscapes you can throw in mundane objects and create your own tough, forbidding images. Very scifi. Fun to play with.
And that's what I did on a job for Mitsubishi.
In truth, the landscape was invented for me by the art director of Cardiff-based agency Golley Slater. He wanted a sort of brutalist world where the landscape was made up of hard wearing, functional, every-day objects.
A brooding, tough world where the Terminator confronts Bob the builder's nightmarish cousin Brad.
Into this dystopian vision comes the no nonsense Mitsubishi truck.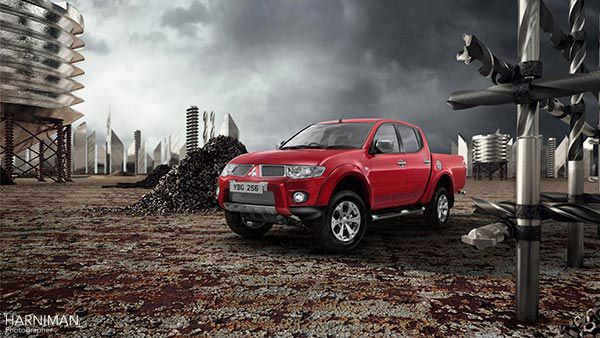 To give everything that macho hardness, the landscape is built around shards of glass, barbed wire, nuts and bolts, slate, corrugated iron and even a lighthouse made from a spirit level.
Unlike most of my other shoots, the truck was the easy part – we shot that in a studio. The rest, though, was CGI'd. So we built the set around the vehicle.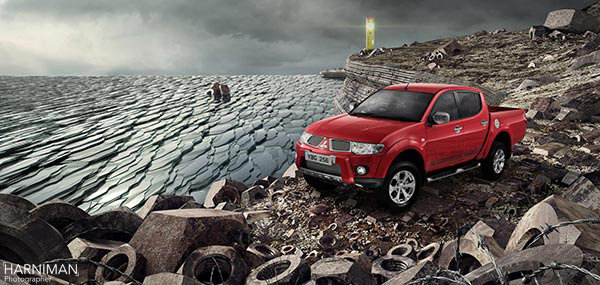 The agency was specific about what they wanted. Their idea was that on first glance, this is a hard wearing truck in a normal landscape. But on closer examination, the world is composed of building materials.
Brief: strictly no summer's days in this world.
So we mocked it up and did it in low res to start with. Looked at textures and surfaces, added more detail. For CGI, you model all the bits and pieces.
So, for example, I brought in a few nuts and bolts. Did this in 3D max and took pics for the textures and duplicated it.
Meanwhile, we built the sea of slate and cliff of corrugated iron from a sketch. The sea was created by modelling individual bits, so we had an array of objects in the form of an ocean.
We modelled a number of shards and then let the software do the rest, shaping them into overlaps.
The agency loved it, Mitsubishi loved it and ran it in the national press for 6 months. So I was happy that the client was happy.
And like so many of the jobs I do these days, it was also an interesting challenge to create that particular CGI'd world.
Gives me a kick to create something out of nothing and then know that the client likes the end result.
Mitsubishi L200 Time Lapse