The Isuzu shoot is one of my recent jobs. A month or so ago in early summer.
The brief was tough trucks for tough times. Driven by tough guys who chew gum and get their hands dirty.
So I wanted to capture a scene that was mean, moody and brittle. The appalling rain and flooding – ironically – really helped to shape it. So we donned our raincoats and headed off to rural Worcestershire, which spends half the year under water.
Isuzu first approached me 10 years ago to shoot their TF pickup ad campaign. We then shot another series of pictures for a second campaign 5 years later, and this is now the third series of truck ads Isuzu has asked us to shoot. So a good tip for all you budding commercial photographers – think of the long game. It pays!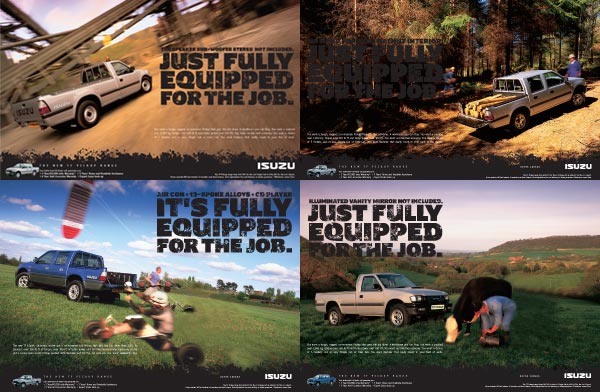 For this shoot we chose sets that would bring out the toughness of the D-MAX, the new incarnation of the truck: the idea was to cover off the building trade, the farming trade and the hard core building trade, which are large industrial construction sites.
For the hard core industrial shot, Bellway Construction allowed us to use one of their sites. It took all day to set up the shoot. To put things up, take things down, move things around. You've got to work within the constraints of a building site; health, safety and all that. You can't just go leaping around, especially with machinery and big holes everywhere.
Above all, I wanted to make the truck look jewel-like in that tough setting. If you can make the product look a million dollars then you'll always score well with the client.
The angle of the shot makes it feel strong, shiny. About 20 images went into that one picture. Glue it all together. Stick it all up and in Photoshop. I try to bring out the hidden details, get the right mood.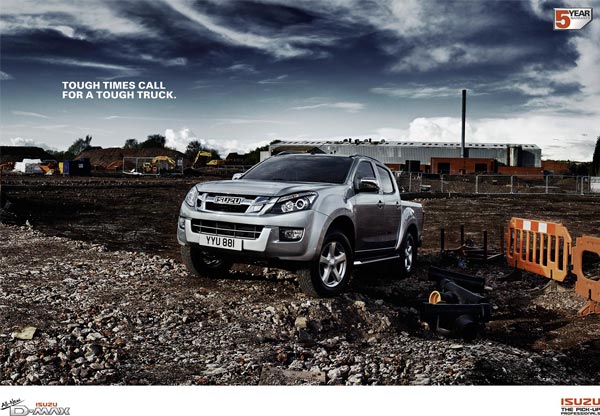 For the farm shot we drove the Isuzu D-Max on to a piece of rough grass. I wanted textured land. Then I shot a panorama, with junk and sheds and all the objects that say "this is a farm; dirty, muddy, higgledy-piggledy". After that we came back to the studio and placed the truck into the shot, played around with it and made it fit the layout that was needed.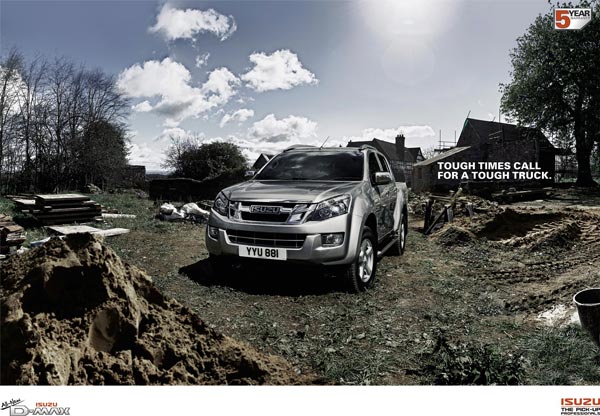 So for all the pictures to work and have a unifying rough-tough-toys-for-rough-tough-boys theme, we spent hours on the computer pulling together the multiple part comps, essentially layers.
Last tip: you have to know what you're aiming at – so to speak – before you even take your camera out of the case; and then have a good idea of what you intend to achieve on the shoot itself. Then you've nailed it. Simple.