With the current global situation still 'going viral' (sorry…slightly inappropriate, you know me…) we are certainly feeling a bit like Martians – physically alienated from friends, family, work-colleagues and our normal lives. However, it has given me the welcome opportunity to connect with people who, during the course of normal working life, I don't get to interact with as much as I'd like – and so I am finding that rather than becoming more isolated from my friends, it has become a great way to stay connected.
Hasn't the weather been great? 'Course that makes it all the more difficult to stay inside – and it makes me long for those heady days of summer out on the beach with an ice cream. That thought was on my mind as I was using the government-mandated break from a hectic work schedule to do some very literal spring cleaning and wishing there was the possibility of a beach promenade and an ice-lolly more than ever – when fate dropped these images back in my lap. (Better the image there than melted ice-cream tho!)
More than happy to put off physical and digital studio tidying I decided to embrace my blast from the past and jumped on the horn to some of my old partners-in-crime from this shoot who seemed all too happy to be dragged from their work to chime in on this one with me!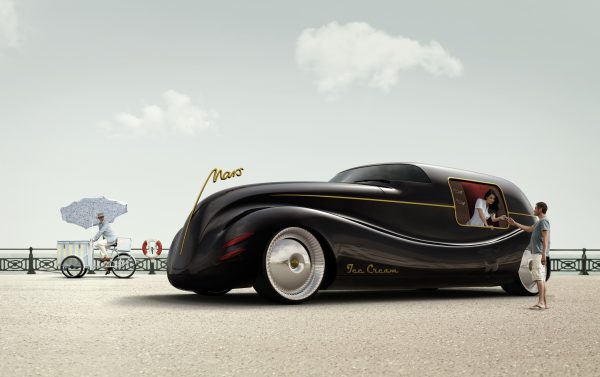 Meet the fellas:
Simon Pederson – Commercial Director, graduated from uni with a fine art degree and was invited to do an exhibition at Publicis. He says he needed a proper job and as a result of that exhibition landed the role of Junior Art Buyer with Publicis London. He worked his way up to being Head Art Buyer in just 5 years and it's been a profession he continued with on and off for most of his career.
Richard Dennison – Sr. Creative/Creative Dir. is a multiple award-winning Creative Director & Copywriter looking after UK accounts, a Global Creative Director over-seeing international brands and Chief Creative Officer running a diverse creative department.
Both of these guys were part of the creative team at AMVBBDO, at the time, and as Richard recalls their client, Mars/ Snickers, approached them with the brief – "Ice cream, only better" and says that what followed was a great lesson on the merits of first ideas being the right ones. "What better way of bringing this slogan to life than by selling Mars & Snicker Ice Cream from ice cream vans, only better? We hit on the idea of a very retro, vintage look but with some sort of souped-up super vehicles being used as the ice-cream vans. However, this idea was originally not considered for the campaign but a few months later we circled back around to it and lo-and-behold it caught on.'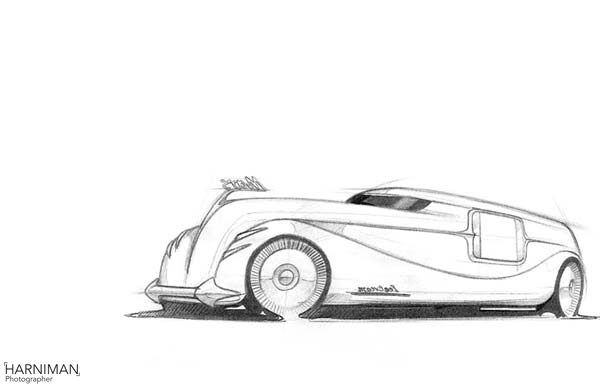 Ehsan Moghadampour was a recent graduate from the Royal College of Art in London at the time and was approached by the creatives at AMVBBDO to produce sketches of the fantasy ice-cream van. "After I received the project brief from AMVBBDO, I had a meeting with the art directors, and they explained what they wanted for this campaign. A few weeks later, I came up with some ideas and sketches based on combining a typical ice-cream van with retro style vehicles, like Hot Rods, or super retro motorbikes. They liked the retro idea, but they also wanted to see the feelings, the essence and even texture of Mars and Snickers on those concepts. Therefore, I began to explore more to find a kind of combination of retro style and something relevant with what they asked for.
I read the brief more carefully, and had some research about the target group, & etc. I found two of my favourite childhood belongings could be the answer for this project. 1. Comic book vehicles 2. Military vehicles. Based on these two concepts, I began sketching. For Mars, I took inspiration from 40's and 50's vehicles from the comic books. I thought the shape of the vehicles in those days could deliver the smoothness taste and texture of the Mars.
On the other hand, for Snickers, I had to find something masculine and most of the military vehicles were manly! I sketched many military vehicles especially those from World War 1 & 2 including bombers, trucks & even trains. At the end one of the weirdest but also the coolest one was approved for Snickers which was the British Mark 1 tank."
Richard – 'Putting all the pieces into place we knew we needed a team that would be able to visualise our concept and construct a car where there was none, we had a phenomenal copywriter on task – Markham Smith and then Nigel and his team came aboard. Let me tell you, they were ahead of the curve – they always have been – and didn't flinch when we asked an automotive photographer to produce an image of a car that didn't exist!'
However, the actual shoot took place on location at the seafront in Hove, Brighton. Our long-time producer Caspar Davies of CasparCo arranged all the location permits, models, wardrobe, props – an old-fashioned ice-cream cart, lifebuoys and a genuine ice cream van to give the models something to interact with on set, as the final 'fantasy' vans were to be created in CGI.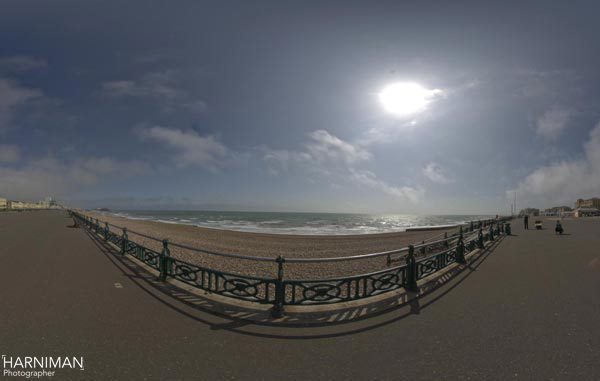 Simon Pederson, Art Buyer/Agency Producer for the shoot chimes in "What I remember was that it was super windy on Brighton pier – we all ended up with 'wind-burn' instead of sunburn and kept losing the gazebos over the seawall! However, the compensation was that there was Mars/Snickers ice-cream on tap, all day long- not too shabby!" He goes on to recall "Shooting the Snickers Tank image – which is actually my favourite (…Is that because you're featured in that image Simon?) – we were using an actual ice cream truck to give the models serving through the 'hatch' something to lean out of and we had a bunch of guy models queued up to receive their ice creams. Nigel was positioned across the way with all the equipment, when suddenly an 80-year-old war veteran with a large Tesco's bag lined up behind the male models. He apparently didn't realise the ice-cream truck wasn't a real one, and despite all of us explaining to him several times that we were on a commercial shoot, he just kept queueing up to buy an ice cream! We ended up getting him to sign a model release and just included him in the shoot that day but, unfortunately, he didn't make the cut with the client in post-production!"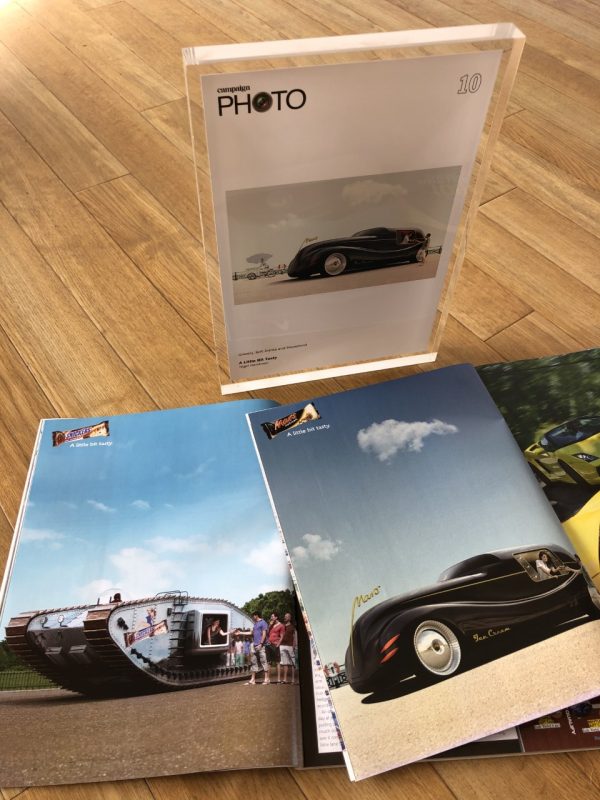 Richard Dennison: "Did any of you notice the guy 'walking' his dog back and forth on the promenade – only his dog was on some sort of rollers? It was hilarious! Did we get a shot of that?"
I can't say that I did, Rich, but what did come out of that shoot was being nominated by the client for the Campaign Photo Awards that year and ending up as the category winner.
Richard: "Yes, well deserved honour Nige. There was a lot of interest in this campaign – the makers of the hit Grand Theft Auto game were in talks to re-create the Mars Ice Cream vehicle and feature it inside the game. Cost to have the Mars Car included in the game? Around £60,000! And it wasn't long after the introduction of the Mars car campaign that BBC TV Series Top Gear featured an ice-cream truck race."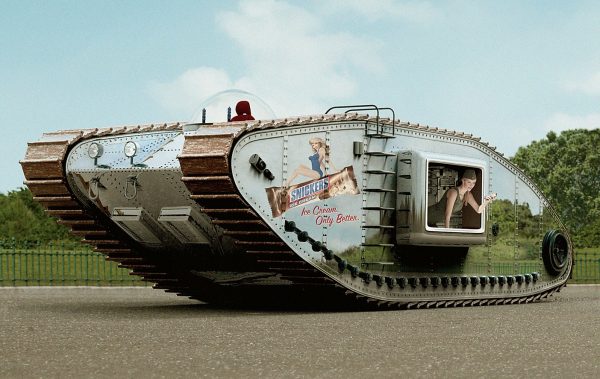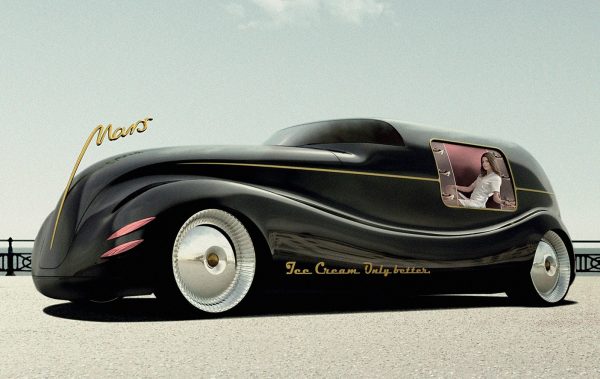 Cheers fellas – it's so great to catch up with you –got any stories you want to share?
Simon: Yes – I have a couple – at a PPM with a marketing man who had a penchant for BBQ flavour kettle cooked crisps (all the rage when they first came out) so we sent the accounts guy out to get some in for him – but he didn't come back. We went ahead and had the meeting, still no guy and no crisps. When the meeting ended and the man from Volvo left – the accounts chap finally showed up covered in sweat hauling a Weber BBQ pit, BBQ Sauce and a giant bag of frozen chips ?!?… he never lived that down.
Working for channel 4 – you never knew who'd you'd end up standing behind in the lunch queue at the canteen…Robert Webb, David Mitchell, Jon Snow – ended up in the pub having a pint with him! I remember a certain celebrity showed up one day and left his Rolls Royce outside the studio parked on double yellow lines. Well, he got a ticket and was incensed – yelled at the Traffic cop and our receptionist…money doesn't buy class!
Last one – I was on location in South Africa shooting "'The Island' with Bear Grylls for Channel 4. We needed a beach shot with Bear cooking fish, so we spent a lot of time doing the recce. Found a beach that looked perfect and got all the required safety checks and safety measures in place. Returned the next day only to find the beach 10 meters underwater! There had been a sort of mini-tsunami, a one-in-a-hundred-year fluke, so we had to run around trying to find an alternative location. Thankfully, it may have been providence because the alternate location we found and subsequent shoot turned out to be the best of the whole production, but it was an incredible natural phenomenon to witness. When we went back to the original location the next day – it was as though nothing had happened!
Richard: I remember coming down to go out to dinner with you, Nige – we went out to a fabulous country pub and we just lost track of time! I remember there was this mad scramble to make the last train back and I ended up on a deserted train platform back in London, in the middle of the night, wishing I'd just stayed where I was!
Alright guys – before you go, here's some questions just for fun:
What's your must–have–in-stock guilty pleasure while you self-isolate?
Simon – Campari and Gin. Also experimenting with Moroni Mixers
Richard: I'm with Simon on this one – Alcohol!
What are you entertaining yourself with?
Richard: The Netflix series "Tiger King", if you haven't seen it, you really need to. I've actually worked with one of the lead character actors.
Simon: I've been playing the guitar for 30 years and I have a home studio so I'm brushing up on chops in there mostly! I am also trying to whittle down my 'honey-do' list…
What's next in 2020 for you?
Simon: As soon as restrictions ease, I'll be just trying to get back to business as usual.
Richard – Yes – can't wait to keep writing and producing great work.
I'm feeling you there – can't wait to get back out there myself. Listen, many, many thanks to you, my friends, for your contributions to this story! I look forward to getting together with you hopefully in person really soon! – Nigel
Join me on Facebook and Instagram for updates & more behind the scenes.
Feel free to share on the social media icons below – thanks!