I was asked by Renault Sport France to shoot images for a book on the Clio V6 being written by renowned French motoring writer and collector Gilles Bonnafous.
We spent a great few days with the car, being let loose to 'shoot at will'. At the time this came as a liberating change to the usual briefs with client signed-off layouts and set crops for press or billboard use. We shot on a race circuit in the South of France, around Paris Charles De Gaulle airport amongst other locations. Shooting panning shots, rig shots and generally trying to capture the essence of the performance of this iconic model Renault.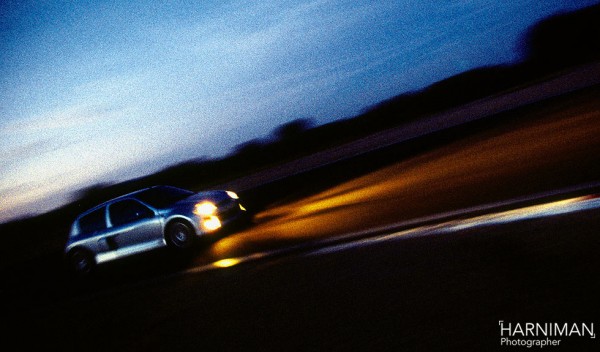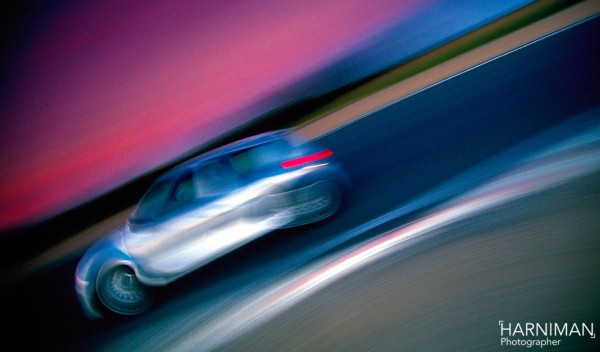 Ironically, regardless of the free brief, one of the images was later used for billboard ads in the UK – a black and white rear rig shot…
I came across a copy of the book this week and I'd like to share the contents.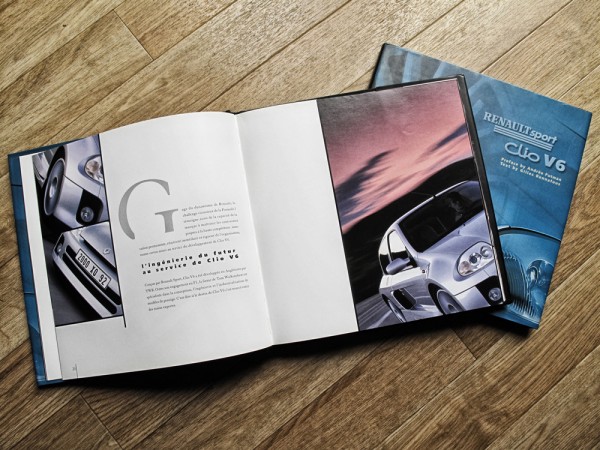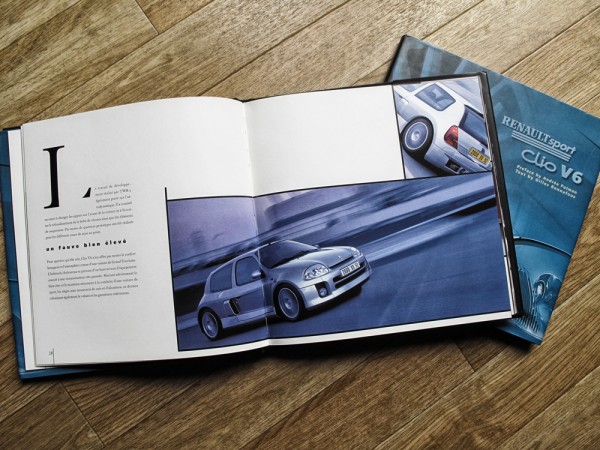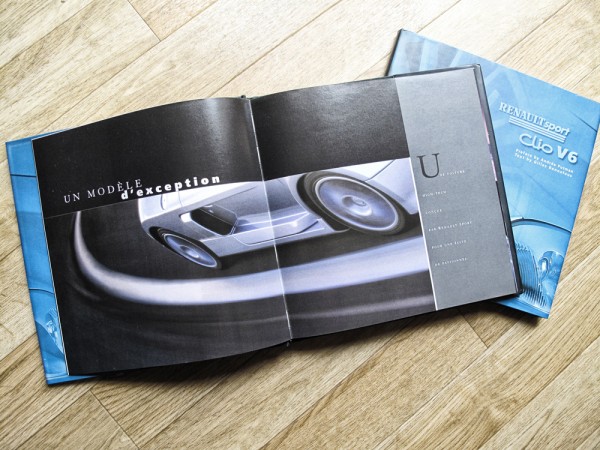 A High Tech Model Designed by Renault Sport for a Select band of Devotees
'Proud of being different, the Clio V6 is destined to join that circle of mythical models and enrich the collections of amateurs harbouring a passion for elite additions. For their special attention, the centre console bears a plaque badged with the words Renault Sport, on which is engraved the number of each vehicle in the order of manufacture.'
A Thoroughbred Animal Lodged in its Lair
'The noble strength of a V6 and the singular performances of an engine unit derived from the world of competition. These are the points of excellence of the engine which powers the Clio V6, a 24 valve, 3 litre block whose 230 bhp are unleashed at 6,000 rpm – the electronic fuel cut-off kicking in at 7,100 rpm. Even though the car's speed exceeds 235 kph, that is not the be all and end all. The figures speak for themselves: 0 to 100kph in 6.4 seconds and standing kilometre in 26.5 seconds.'
Formula 1 Derived Technology
'The Clio V6 has the full benefit behind it of technology derived from competition, in particular the Formula 1 experience acquired by those attending its conception.
For its parents stand out for their racy and sporting credentials: on the one hand Renault Sport, six times Formula 1 World Champions, on the other TWR (Tom Walkinshaw Racing) currently the builder of the Arrows F1 contender. Looking slightly further back, Tom Walkinshaw drove Jaguar to victory in the Le mans 24 Hours, ten years after Renault had achieved a similar victory.
Built in a Lab/Plant in Sweden
'Built by hand in TWR's Uddevalla factory close to Gothenburg, the Clio v6 benefits from the skill and knowhow of specialists, recognized for their prowess at crafting dream cars. Amongst a panoply of outstanding vehicles by Tom Walkinshaw's operation, we can cite the Jaguar XJ220 and the Aston Martin DB7, two models that speak volumes about the level of ability of those whose job it is to build the Clio V6.'
Renault Sport Clio V6 Text by Gilles Bonnafous, Preface by Andree Putman Published by Hachette Books