EVO magazine interrogate me about all things automotive – stories and favourite images, from crashing a Fizzy into a churchyard to closing tunnels in LA!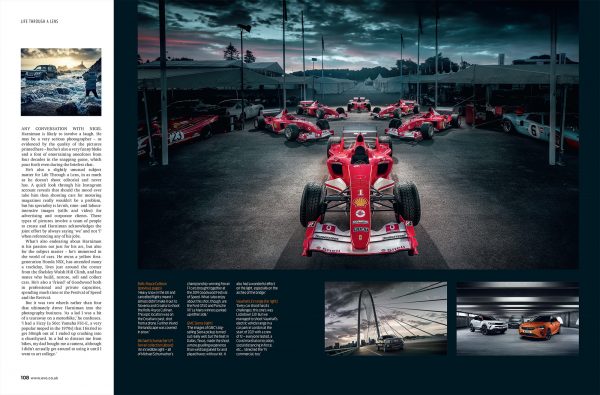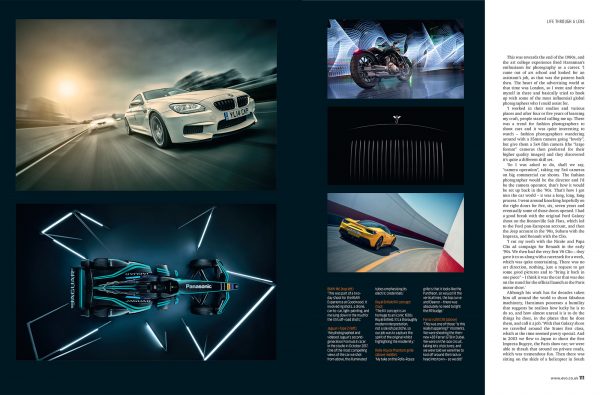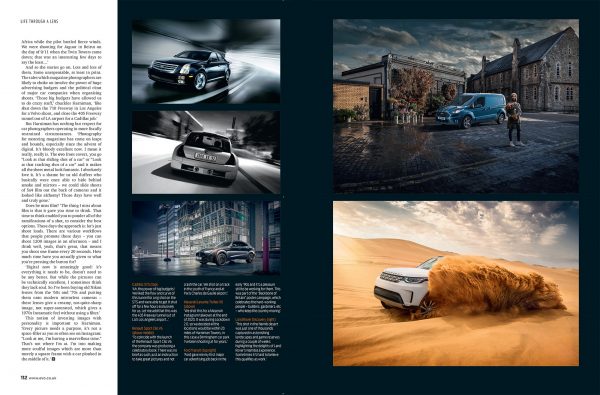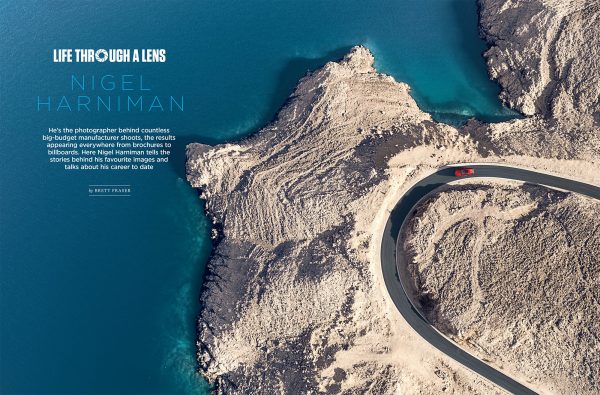 May 2021 EVO magazine – article by Brett Fraser
Full interview below…
Any conversation with Nigel Harniman is likely to involve a laugh. He may be a very serious photographer – as evidenced by the quality of the pictures printed here – but he's also a very funny bloke and a font of entertaining anecdotes from four decades in the snapping game, which pour forth even during the briefest chat.
Nigel Harniman – Nige to his mates – is slightly unusual subject matter for Life Through a Lens in as much as he doesn't shoot editorial and never has. A quick look through his Instagram account reveals that should the mood ever take him then shooting cars for motoring magazines really wouldn't be a problem, but his speciality is lavish, time- and labour-intensive images (stills and video) for advertising and corporate clients. These types of pictures involve a team of people to create and Harniman acknowledges the joint effort by always saying 'we' and not 'I' when referencing any of his jobs.
What's also endearing about Harniman is his passion not just for his art, but also for the subject matter – he's immersed in the world of cars, owns a yellow Honda NSX, has attended many a trackday, lives just around the corner from the Shelsley Walsh hillclimb, and has mates who build, restore, sell and collect cars. He's also a 'friend' of Goodwood both in professional and private capacities, spending much time at the Festival of Speed and the Revival.
But it was two wheels rather than four that ultimately drove Harniman into the photography business. 'As a lad I was a bit of a tearaway on a motorbike,' he confesses. 'I had a Fizzy [a 50cc Yamaha FS1-E, a very popular moped in the 1970s] that I fettled to get 50mph out of: ended up crashing into a churchyard. In a bid to distract me from bikes, my dad bought me a camera, although I didn't actually get around to using it until I went to art college.'
This was towards the end of the 1980s, and the art college experience fired Harniman's enthusiasm for photography as a career. 'I came out of art school and looked for an assistant's job, as that was the pattern back then. The heart of the advertising world at that time was London so I went and threw myself in there and basically tried to hook up with some of the most influential global photographers who I could assist for.
'I worked in their studios and various places and after four or five years of learning my craft, people started calling me up. There was a trend for fashion photographers to shoot cars and it was quite interesting to watch – fashion photographers wandering around with a 35mm camera going 'lovely', but give them a 5×4 film camera and they discovered it's quite a different skill set.
'I was asked to do, shall we say, 'camera operation', taking my 5×4 cameras on big commercial car shoots – the fashion photographer would be the director and I'd be the camera operator, that's how it would be set up back in the '90s. That's how I got into the car world – it was a long, long, long process. I went around knocking hopefully on the right doors for five, six, seven years and eventually some of those doors opened. I had a good break with the original Ford Galaxy shoot on the Bonneville Salt Flats, which led to the Ford pan-European account, and then the Jeep account in the '90s, Subaru with the Impreza and Renault with the Clio.
'I cut my teeth with the Nicole and Papa Clio ad campaign for Renault in the early '90s. We then had the very first V6 Clio – they gave it to us along with a race track for a week, which was quite entertaining. There was no art direction, nothing, just a request to get some good pictures and to "bring it back in one piece" – I think it was the launch car that was due on the stand for the official launch at the Paris motor show.'
Although his work has for decades taken him all around the world to shoot fabulous machinery, Harniman possesses a humility that suggests he realises how lucky he is to do so, and how almost unreal it is to do the things he does, in the places that he does them, and call it a job. 'With that Galaxy shoot we travelled around the States first class, which at the time seemed pretty special. And in 2003 we flew to Japan to shoot the first Impreza bugeye, the Paris show car – we were able to thrash that around on private roads and that was great fun. Then there was sitting on the skids of a helicopter in South Africa while the pilot battled fierce winds. We were shooting for Jaguar in Beirut on the day of 9/11 when the Twin Towers came down: that was an interesting few days to say the least…'
And so the stories go on. Lots and lots of them. Some unrepeatable, at least in print. The tales which magazine photographers are likely to choke on involve the power of huge advertising budgets and the political clout of major car companies when organising shoots. 'Those big budgets have allowed us to do crazy stuff,' chuckles Harniman, 'like shut down the 710 Freeway in Los Angeles for a Volvo shoot, and close the 405 Freeway tunnel out of LA airport for a Cadillac job.'
But Harniman has nothing but respect for car photographers operating in more fiscally restrained circumstances. 'Photography for motoring magazines has come on leaps and bounds, especially since the advent of digital: it's bloody excellent now, I mean it really, really is. The evo front covers, you go 'look at that sliding shot of a car' or 'look at that tracking shot of a car' and it makes all the sheet metal look fantastic. I absolutely love it. It's a shame for us old duffers who basically were once able to hide behind smoke and mirrors – we could slide sheets of 5×4 film out the back of cameras and it looked like alchemy! Those days have well and truly gone.'
Does he miss film? 'The thing I miss about film is that it gave you time to think. That time to think enabled you to ponder all of the ramifications of a shot, to consider the best options. These days the approach is, let's just shoot loads. There are various work-flows that people promote these days – I can shoot 1200 images in an afternoon – and I think well, yeah, that's great, that means you shoot one frame every 20 seconds. How much time have you actually given to what you're pressing the button for?
'Digital now is amazingly good: it's everything it needs to be, doesn't need to be any better. But while the pictures can be technically excellent, I sometimes think they lack soul. So I've been buying old Nikon lenses from the '60s and '70s and putting them onto modern mirror-less cameras – these lenses give a creamy, not quite sharp image, not super-saturated, which gives a 1970s Instamatic feel without using a filter.'
This notion of investing images with personality is important to Harniman. 'Every picture needs a purpose, it's not a space-filler as you so often see on Instagram: look at me, I'm having a marvellous time. That's not where I'm at. I'm into making more soulful images which are more than merely a square frame with a car plonked in the middle of it.'
Picture captions
BMW i8
'We shot the i8 at night outside a hangar at the Goodwood Motor Racing Circuit, painting it with light to bring its curves alive. It was part of two-day shoot for the BMW Experience, which involved rig-shots, a drone, car-to-car, and me lying down in the mud for the X5's off-road shots.'
Rolls-Royce Cullinan
'Heavy snow in the UK and cancelled flights meant I almost didn't make it out to Slovenia and Croatia to shoot the Rolls-Royce Cullinan. This epic location was on the Croatian coast, shot from a drone: further inland the landscape was covered in snow, which was also spectacular.'
Schumacher's F1 Ferrari Collection
'An incredible sight – all of Schumacher's championship-winning Ferrari F1 cars brought together at the 2019 Goodwood Festival of Speed. What I also enjoy about this shot, though, are the Ford GT40 and Porsche 917 Le Mans-winners parked up either side.'
Jaguar I-Type 2
'We photographed and videoed Jaguar's second generation Formula E racer over a few days in the studio in October 2017. One of the most compelling views of the car we shot from above, the illuminated tubes highlighting its electric credentials.'
Ferrari 488 GTB
'This was one of those "is this really happening?" moments. Ferrari loaned us the then new 488 GTB in Dubai: we were on the race circuit, we were taking lots of pictures, the car's ours and we were told we were free to tool off around the track or head into town – so we did!'
Cadillac STS
'Ah, the power of big budgets! We liked the flow and curve of this tunnel for a rig shot on the Cadillac STS and were able to get it shut off for a few hours exclusively for us – let me add that this was the 405 Freeway tunnel out of LAX Los Angeles airport…'
Land Rover Discovery
'This dynamic shot of the Discovery in the Namib desert was just one of thousands we shot in astonishing landscapes and game reserves during a couple of weeks highlighting the delights of Land Rover's Namibia Experience. Sometimes it's hard to believe this qualifies as work.'
GMC Sierra Pick-Up
'The images of GMC's big-selling Sierra pick-up turned out really well, but the heat in Dallas, Texas made the shoot a more gruelling experience than we'd bargained for and played havoc with our kit: it also had a wonderful effect on the light, especially on the arches of the bridge.'
Maserati Levante Trofeo V8
'We shot this for a Maserati Instagram takeover at the end of 2020: it was during Lockdown 2.0, so we decided that all locations would be within a 20-mile radius of Harniman Towers, in this case a Birmingham car park I've been shooting at for years.'
Rolls-Royce Phantom grille
'Everyone knows what a Rolls-Royce grille looks like: it's imposing with an RR badge on it. My take on it was that it looks like the Pantheon, so we just lit the vertical lines, the top curve and Eleanor – there was absolutely no need to light the badge.'
Royal Enfield KX concept
'The KX is an homage to one of Royal Enfield's most iconic bikes from the 1930s and it's a thoroughly modern interpretation and not a slavish pastiche – our job, therefore, was to capture the spirit of the original KX, whilst highlighting its modernity.'
Renault Sport Clio V6
'To coincide with the launch of the Renault Sport Clio V6 the company was producing a celebratory book – there was no brief as such, just an instruction to take great pictures and not crash the car. We shot on a track in the south of France and at Paris Charles de Gaulle airport.'
Rolls-Royce Phantom Tranquility [in the woods]
'This was a long and complex shoot: the brief was to produce a suite of images and cinemagraphs inspired by celestial bodies to give a feeling of 'other worldliness'. This image was shot in a quiet Welsh valley and, I feel, very much meets the brief.'
Vauxhall LEV Range
'Every car shoot has its challenges: this one's was Lockdown 3.0! But we managed to shoot Vauxhall's electric vehicle range in a car park in London at the start of 2021 with a crew of 12 – everyone tested, a Covid marshal on location, social distancing in force, etc… I directed the TV commercial, too.'
Ford Transit
'Ford gave me my first major car advertising job back in the early '90s and it's a pleasure still to be working for them. This was part of Ford UK's 'Backbone of Britain' poster campaign, which celebrates ordinary working people – builders, gardeners, etc – who keep the country moving.'
Join me on Instagram and Facebook for updates & more behind the scenes.
Feel free to share on the social media icons below!