When Dr Jim asked me to join him for a spot of "messing about on the river", I immediately agreed. We couldn't have done our trek from Land's End to John O'Groats without him last year as he not only kept us in physical form, he blogged on our adventures, and kept us smiling across the miles.
This time he needed a favour and I couldn't wait to offer assistance not only to say thanks, but to be part of whatever he had up his sleeve. From experience I knew it would be a laugh whatever he had in mind.
Eight Miles on the Severn
Dr Jim, from the York Medical Centre, had entered the Arley to Stourport raft race, an annual event that would raise money and awareness for the Air Ambulance. Travelling on the river Severn for 8 miles (with a pub stop half way) we had to construct a raft that would keep us all afloat.
The task began on Saturday when we all got stuck in chopping up Ikea furniture, office chairs and anything we thought would float. With reams and reams of gaffer tape a lot of ratchet strapping and token plastic drums for buoyancy by dusk we were almost done.
Just one feature was missing – the waterproof boxes for phones, beer and rum!
The next morning we were all set to go, meeting at our launch point on the banks of the River Severn at Arley, along with many other impressive and quirky rafts. From the Flintstones to the Chinese Dragon, we were going to be a colourful spectacle travelling downstream.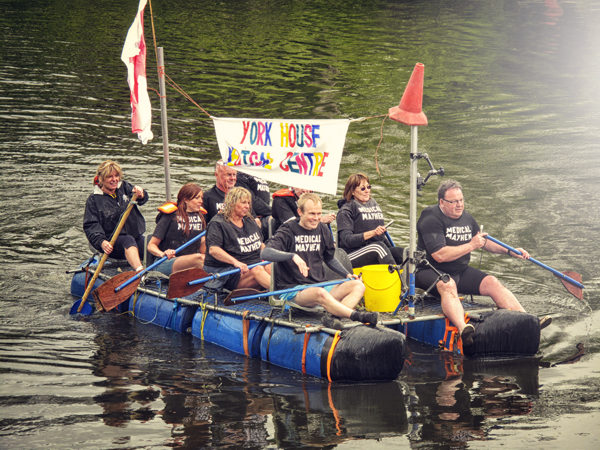 Up Creek with an Upcycled Paddle
The quickest raft, 'Just Quackers', completed the 8 miles in just over an hour, whereas we took four times as long. This could have had something to do with our stop at the Mug House in Bewdley as we took a chance to admire the scenery (*cough) but we weren't the last to finish. Finishing at Stourport-On-Severn Boat Club we earned a respectable 17th place out of 267894693 participants. Ok, out of 19.
Money was raised, no one drowned and we finally found a use for that ugly Formica Ikea desk, so overall, the day was a resounding success!
See our pics of the day here.