It's been a few days since we did our horizontal trek across Britain, and I've just plucked up the courage to sit for more than five minutes to tell you all about it. Cycling is the next best thing to using an engine to travel but even the comfiest seat causes soreness after a while! It still feels like I'm sitting on a tennis ball and Wimbledon is weeks away!
Last year we were a bit more adventurous as we rode from John O Groats to Lands' End, but we had the motivation of raising money for Breakthrough Breast Cancer, this year it is just for fun.
Blog – https://blog.harniman.com/wheresyourbike
Day by Day of the JOG-LE ride – http://wheresyourbike.wordpress.com
That didn't stop some of you sending some cash to our favourite charity though, so a big thank you to those that did.
We started as every group of men would when gearing up to spend a few days together, with a beer and a curry at Aberystwyth before bedding down in a B and B. The others had arrived using the van we hired, but with only 3 seats, I managed to persuade my mate Paul to give me a lift in his Audi TT. May as well start as I mean to go on!
Before we set off the guys had the bright idea of having a quick dip in the sea, now it may have been scorching for the rest of you, but in Aberystwyth it was FREEZING. We couldn't wait to get started to warm up. Just a few hours in though and we were tempted by the smell of greasy bacon butties wafting from the roadside. After the beer and curry the night before this is just what we needed as fuel.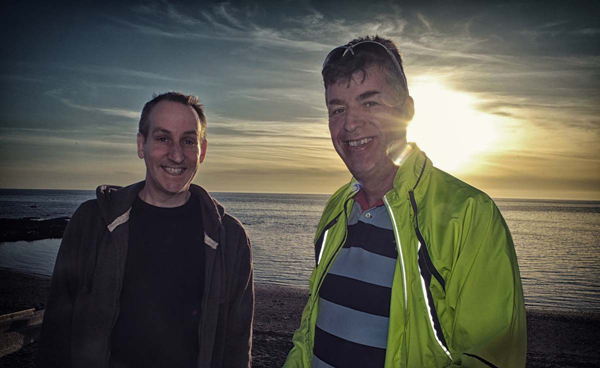 We all agree that day two was the best despite it being our longest trek. Over 140 miles including riding alongside some canals lessening the risk of being wiped out by lorries like last year! With skinny wheels it wasn't ideal but it did give the most incredible views although we were convinced one of us would lose our balance and end up in the canal.
I managed to persuade the others to ditch the beaten track and follow my Garmin (ok I demanded) across a field and down grassy banks to access a towpath from the road. It may have been easier with mountain bikes but it did add a little variation to the route.
Everyone bunked down at our place on night two before setting off again wearing our bikini tops. These caught the eye of many passers-by but not exactly the attention we were looking for! A few must have got a shock once we took the helmets off!
Hitting the finish line, we were greeted by our best friends and family and after another ice cold dip in the sea we were transported to a luxury hotel to rest our aching behinds. After a Jacuzzi, some food and a pool tournament with the kids, we were almost back to normal and ready to return to normal life.
It still feels a bit like I'm sitting on a tennis ball but I've manage an hour without groaning out loud so it must be getting better – roll on next year's ride!