You'll probably remember earlier in the year when I was dragged along (not so reluctantly) to join in a charity raft race. With my good friend raising money for the Midlands Air Ambulance Charity I really couldn't refuse. So with a bottle of rum and a stop at a couple of riverside pubs, we took our old office furniture and floating barrels down the river.
It was a great way to spend a Sunday, but I must admit apart from knowing that the Midlands Air Ambulance rescued people from tricky locations, I was quite clueless to their plight. I'd never delved deeper to discover the people behind the pilots or to find out just how in demand they are.
Now my curiosity was peaked.
Then just a few weeks ago one of their helicopters landed close by and I saw the machine with my own eyes. The whole scene was quite impressive from landing to picking up the injured horse rider to taking off without any fuss.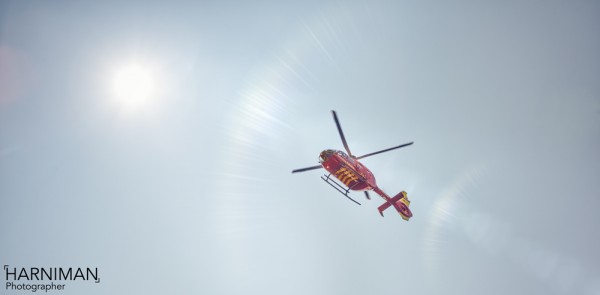 This is when I decided I wanted to find out more, I also couldn't resist getting closer to the copters they have at the base.
Luckily for me, I received a call inviting me to go down and see what they do. Taking my trusted 35 mm kit (along with the Lumia camera phone I was trialling for Nokia) I couldn't wait to capture the copters on camera.
What You Might Not Know
Few people know that the Midlands Air Ambulance is the largest in the UK, operating three ambulances over six Midlands counties. It has been in force for over two decades and in that time has responded to nearly 40 thousand emergencies. That's nearly ten per day!
The crew are made up of a pilot, paramedics and doctors, while equipment is essential lifesaving kit. All of this of course costs money yet the Air Ambulance receives absolutely no government support or even lottery funding. They rely on the good will of the public and businesses to meet their costs of £6 million per year.
Many people believe that the air ambulance rescues people only from places where a normal ambulance can't get to, such as mountains, valleys and forests. Although this is what they do their service is more about speed as they get a victim to hospital quicker than any other mode of transport can.
The first hour after an injury is known as the Golden Hour, as if a patient makes it to the hospital in this time frame, their chances of survival increase dramatically. The Air Ambulance are rightly proud of their rapid response and their ability to get to anywhere in their three counties within 15 minutes. It's this which saves lives and makes their charity essential for everyone.
Although cars are usually my engines of choice to shoot, I really enjoyed my time here and you can see the shots I got that hopefully give you a little more insight into this incredible service.