This is Pan Head Billy, a larger than life character, sitting astride his Harley on a dried-up salt lake bed a few miles outside Wendover, a small gambling town straddling Utah and Nevada.
Not a lot happens in Wendover.
I had been shooting a Ford Fusion campaign in LA and after wrapping that shoot I decided to head out cross county for a road trip to capture landscapes for CGI back plates. Just driving from one state to the next, with the aim of passing through the Bonneville Salt Flats at some point (a great location – different every time).
After several days travelling and many back plates later we arrived. Out of nowhere I spotted 1000-odd bikers – seriously heavy characters – doing speed trials across a salt bed. They had diesel bikes, electric bikes, everything; if it had two wheels you could do the time trial, it was fantastic.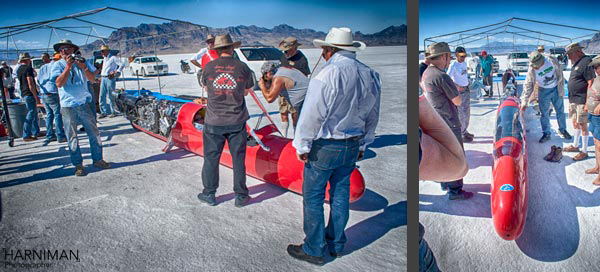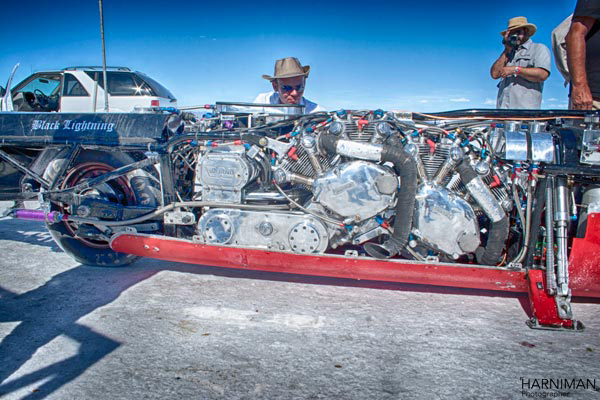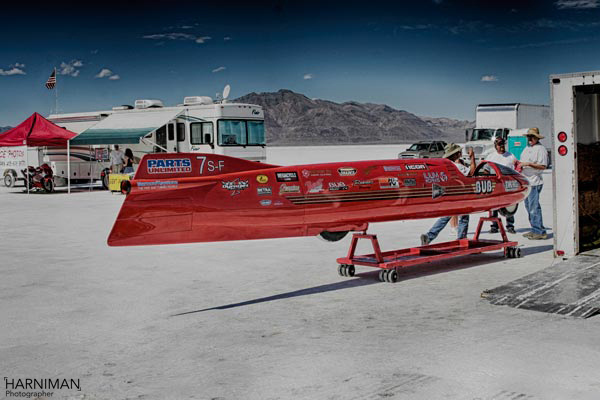 In the middle of all the hubbub was this dishevelled looking Pan Head Harley, we just had to find the rider!
This larger than life guy, Pan Head Billy, turns up. So called because of his bike, he had a face like Zeus with hands like shovels holding a suicide clutch. Far more attention grabbing than the bike itself.
Originally came from Milwaukee, ex US Air Force, and was on his way to a friend's party in LA. Distance was clearly no obstacle for Billy.
So we got talking and he spent an hour sharing his on-the-road tales with me.
He was a real life High Plain's Drifter, always moving from one state to the next. All his possessions were packed in around him. Billy exuded tough indomitable impermanence. As we chatted I felt that at any moment he would shoot off.
With the salt flats you have all this white light bouncing around. The sun was high in the sky, just after mid-day. I angled Billy 45 degrees so the light was across his face to give it shape and form. The image speaks for itself.
Above all, I wanted to make him look strong, dominant. Pan Head Billy was a real alpha male and I wanted to bring that out.