It will come as no surprise to you that my love of talking can end up getting me in trouble on occasion, but this trouble and this occasion are for a good cause. I've been cajoled by the girls (Gill & Kate) into giving a couple of talks at this year's Photography Show at the Birmingham NEC.
BREAKING NEWS – Unfortunately, The Photography Show scheduled for this weekend (March 14 – 17) has had to be called off. ☹ All indications are that it will be revived in September and so…we shall give it another go then!
What can they have found for me to chat about, I hear you ask? A lot as it happens and I'm going to give you a little preview here today. For the show my friends Iain Baker from Honda, Natalie Taylor (KCS) and Matt Smith (also from Honda) have kindly lent us their amazing latest prototype CB1100 Custom motorcycle to haul up on stage with me for this light-painting demo.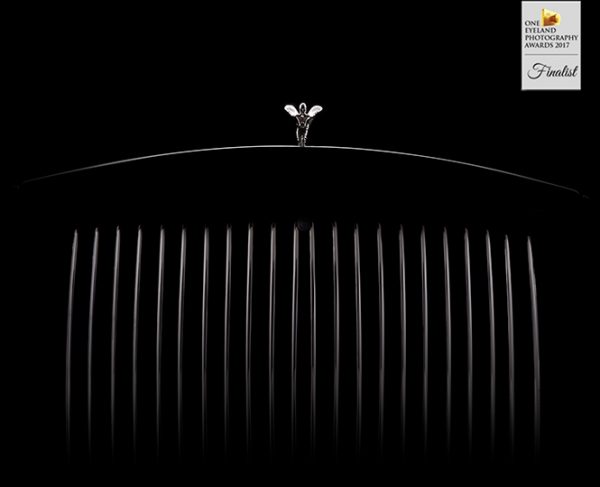 Do you recognise the car from this image?
Yep – that's the front grille of a Rolls-Royce. We used light painting to create a tease image for the launch of the iconic Phantom 8 for Rolls-Royce before it's public reveal – isn't branding powerful? You knew what it was, and you didn't even have to see the whole car!
Here's another example: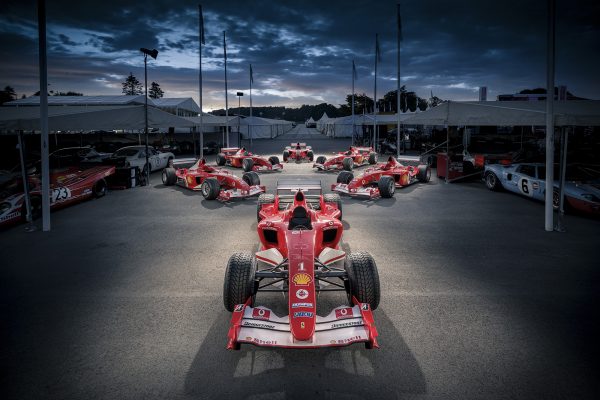 These are five world championship winning F1 Ferraris driven by Michael Schumacher, brought together at Goodwood F.O.S. in 2019 for us to create this iconic image in celebration of his 50th birthday year. It was the first time ever that the cars in which Schumacher claimed his all-time record of seven Formula 1 drivers' world championship titles were gathered together.
What do these images have in common? Well they are all examples of how we use the Light Painting technique.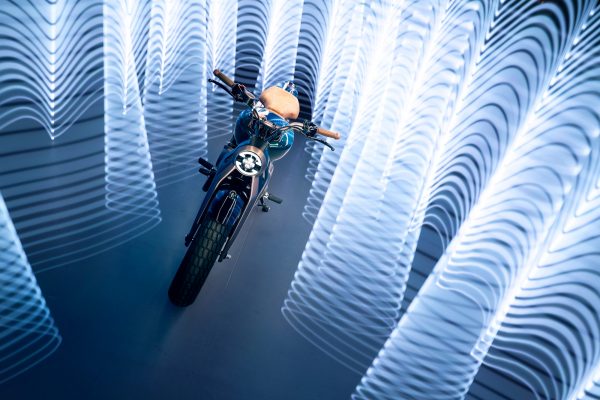 Firstly, Light painting is a term that describes the photographic technique of moving a light source while shooting a long exposure photograph to illuminate a subject or space.
But lets start at the beginning – what I'd like you to do is look at the images below…
It's 1995, Mojave Desert, Ford Galaxy Pan-European "First Class Travel" press campaign with RKCR Y&R London which helped launch my automotive shooting career.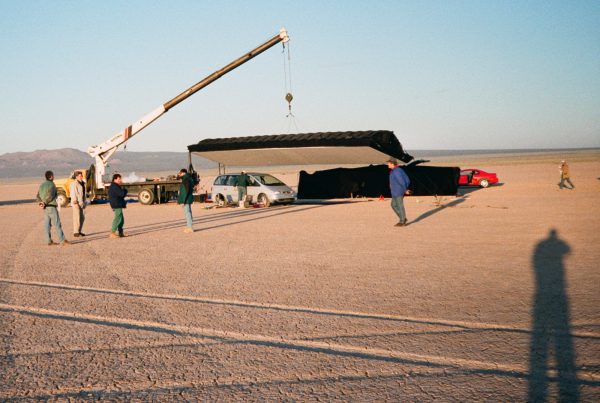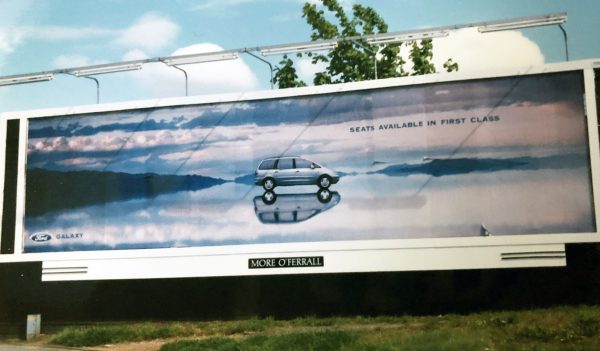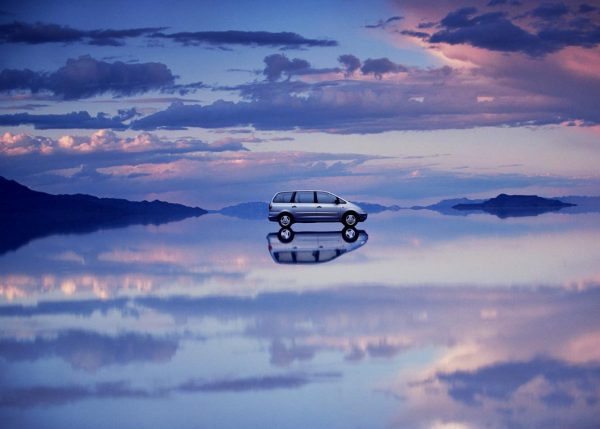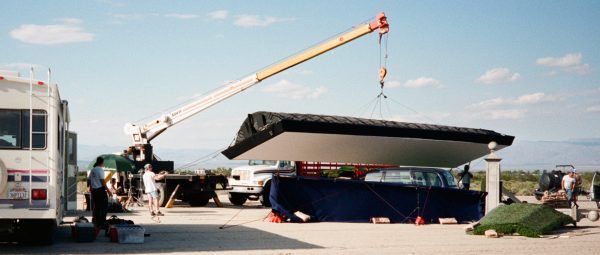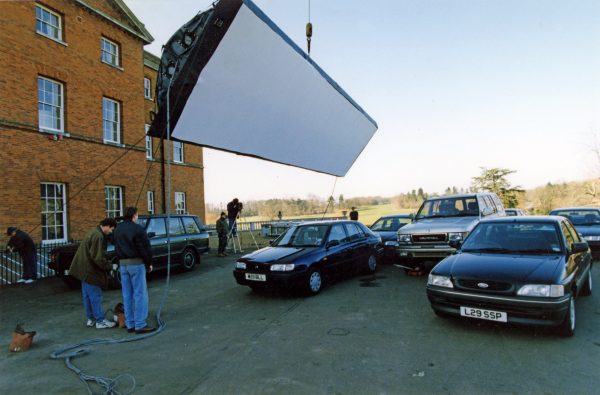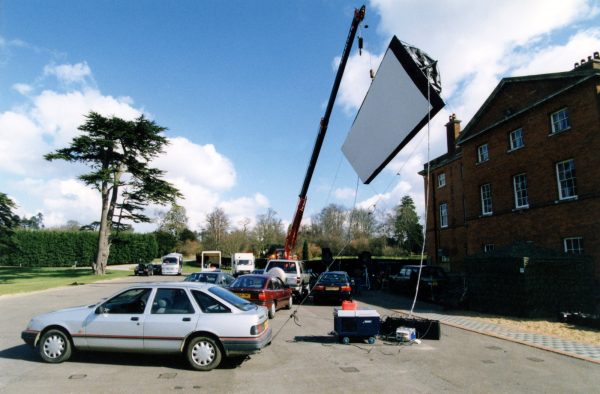 As you can see above, the Light Source was HUGE! 50,000 joules, 60ft softbox and positioned by crane. In the nineties this was the 'red setters rude bits' when it came to capturing those iconic automotive images – but why?
However, you can probably already see the drawbacks. This is a monstrous piece of kit and it's pretty difficult take it anywhere – hence the crane…in the Mojave desert! And, the Fisher Light only illuminated from the top down, so you still had to find alternative light sources if you wanted to light the sides or pick up or highlight details …
If you can, put yourself in the mindset that you are creating a large box of light, to highlight the lines, angles, form and shape of your sheet metal, but instead of using one large box, but you are now using one small 'box '(flash with softbox) multiple times to create the same…
So lets move forward to 2003/4 – we are now flash light painting. Remember – the name of the game is to create the same light you'd get from the 60ft Flash box all around your subject, using much smaller, and thankfully, more convenient kit. (Stu not included, sorry!)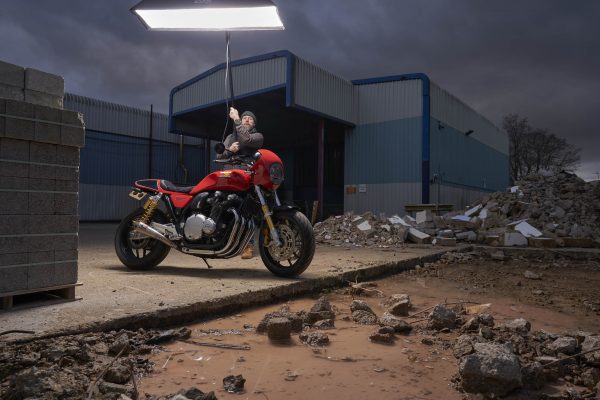 There's a hundred online tutorials out there demonstrating how to do it, but I find many of them don't do a great job of explaining WHY you'd use it. Here are some of MY tips for creating the best Flash Light Painting images.
Equipment:
– Tripod – Pro tip, set the camera up and LEAVE IT ALONE
– Computer – shoot tethered at all times – so, you don't touch/move the camera between frames….ever, for any reason – Dennis, Ciera, Corona Virus…nothing 😉.

1.Find a location and set composition – Using Flash lights means that now it doesn't necessarily have to be dark for this technique to work – high speed sync permitting.
2. Set up one flash head and soft-box modifier – again, just as with the giant Fisher Light – I want to build a large 'box of light' around the vehicle using the one flash light with modifier so that it is lit from multiple angles. Once more – Do not move your camera….ever, shoot tethered. Pros always tether.
3. Get 'Ninja Stu', to either hold or set up the flash head at various positions around the vehicle and shoot a frame in each position, making sure all the lines and curves of the bike are shot, helping to create shape & form over the sheet metal. Make sure that the light source is never touching the vehicle, as you won't be able to use that frame.
4. Get creative with it! Play with having the headlights/tail-lights on – light details & key features, light some of the landscape…etc.
5. Layer the stack of images up in Photoshop. In this case, less is more – get your light in the right place multiple times and bingo – a lot less post-production.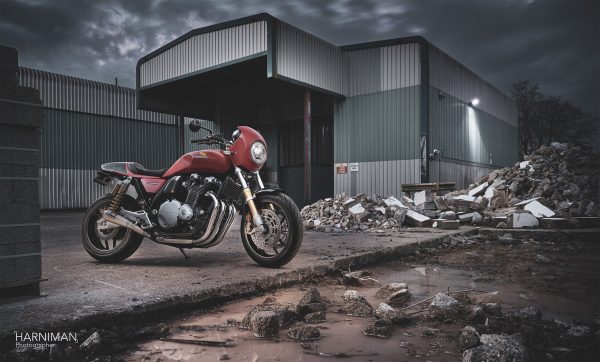 So – that covers light painting with a flash. Now we move forward to 2010…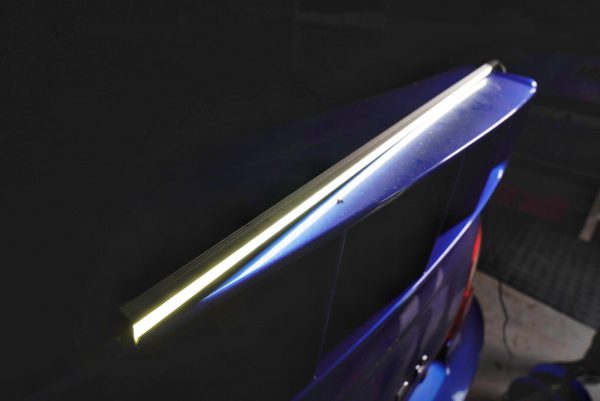 To address some of the problems of hauling around flash kit, which isn't that inconvenient but hey I like an excuse for a little project! I made myself a DIY light stick using some B&Q kitchen under-cabinet lights, as the alternative "Ice Light" was on the market for around £400 and I didn't want to spend that much – so I cobbled together my own piece of kit for a pony (£25 for you non-cockneys!) and tested it by shooting my Honda VFR.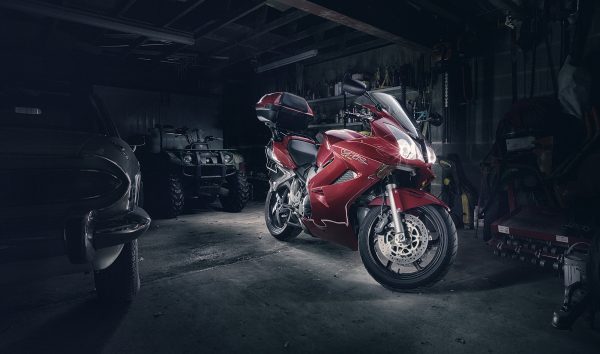 This technique is light painting with an LED light stick.

I use – the same set up but instead of flash a LED Yongnuo YN-360 is deployed.
– Tripod and computer – tethered and camera still not moved…
1.For this technique to work you will need to take advantage of shooting in the dark or low light and set your camera to a long 8-10 second exposure.
2. Again, get 'Ninja Stu', to walk (quickly this time) around the vehicle with the LED stick, stroking every curve and undulation of the Honda, with light. Just as before you must try to make sure that the light source isn't too close the vehicle, as you won't be able to use those frames, if the light is touching the vehicle anywhere.
3. Get creative with it! Unleash your inner Jedi with the LED stick in each exposure.
4. And, as before, layer the stack of images up in Photoshop.
By adopting this technique into your image-creation arsenal, the sky's the limit when it comes to the art you can produce with it – and nowadays, with the rise in drone usage in the industry, the sky really is the limit as your equipment is not limited to being on the ground! Quite a few photographers and cinematographers, like me, are using drones to light paint both for motion and stills projects. It is quite a challenge to fly in low light, and not end up with the drone written off…(!)
When you have mastered the basics try light painting with moving image!
In the absence of God's big natural softbox, we have to create a light-source, so this is a 'potted history' hopefully showing how the size and ease of use of lighting has evolved.
So, now it's 2020 – I love all the technology that I get to 'play' with as part of my job. I do recognise, however, that this technique is just one of the tools of my trade' and can give you new choices and perspectives with your images. But that's where I have to come back to my core set of skills, honed over more years than I care to remember, ever since I started with my gift analogue SLR Minolta. Who I am is an image creator. I will always be focused on getting the best shot, not on what the best piece of kit to have is. I have often said that the best camera to have, is the one you have with you, but more importantly the best tool is your eye. – Nigel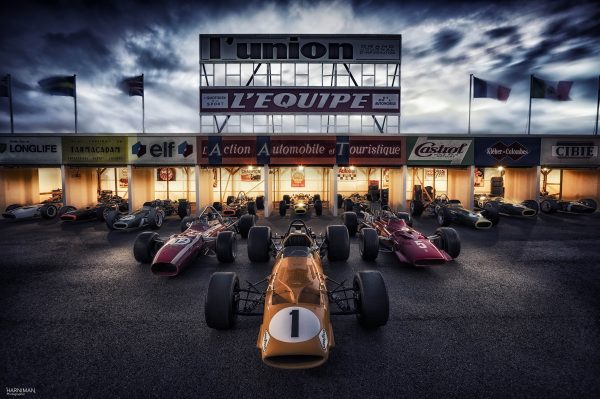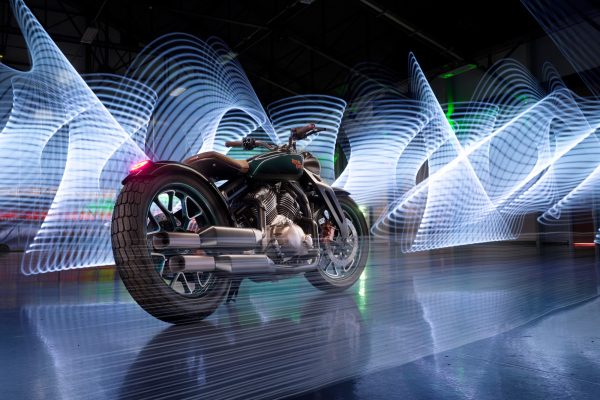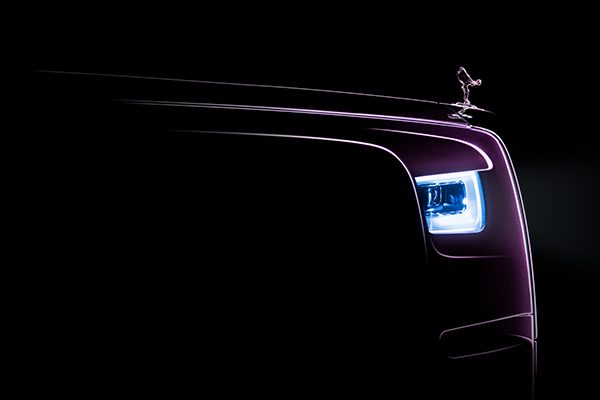 Join me on Facebook and Instagram for updates & more behind the scenes.
Feel free to share on the social media icons below – thanks!