I always look forward to the Focus on Imaging event, even if my accountant goes weak at the knees. He knows I'll return with a new wish list of must have advanced, but pricey, photographic equipment.
This year, however, I already had my eye on the prize, as I made a beeline to the IQ2, eager to take one for a mini test drive while fantasizing about using it to capture a classic car in action. With three of these backs present at the show, I knew that this may be the only time I'd see 33% of the entire stock in one place. With only nine in existence, this was worth coming for alone.
We Got What We Came For – And a Little Bit More
Despite being bowled over by others, and even making an impromptu appearance on the TV with Paul from Camera Diner, my thoughts rarely wavered as I considered selling my soul to buy the GBP 30,000 + addition to the family. This wistful look in my eyes, continued to the coffee shop, where one intuitive hobbyist recognised the glaze from his own reflection.
The sun was beginning to set and I needed coffee to return to reality but as the car park became a desolate place, the recognition dawned in the hobbyist eyes and he reached out to make a connection.
It seems everyone who comes in contact with the new IQ2 leaves with an aura that suggests nothing else will do. Whether this shift in focus is evident in a walk, a talk or the sudden urge to re-mortgage the home is unknown, yet one well known spotted it.
Cars, Coffee, Conversation with Jon Bentley and a Bit About IQ2 Too!
Jon Bentley of Gadget Show fame, the producer of Top Gear and the man behind Jeremy Clarkson's fame (we forgive him!) reached out to ask my thoughts on this new back, the IQ2.
It's no surprise that this man, with an unlimited passion for pinhole cameras, now shot up in my expectations considerably. Already a voice to be listened to, he now combined my two favourite passions of cars and cameras, while stoking my new found obsession for the IQ2, Andy Kruczek beside me was in his element and we were soon joined by Chris Ireland who was happy to showcase the IQ2.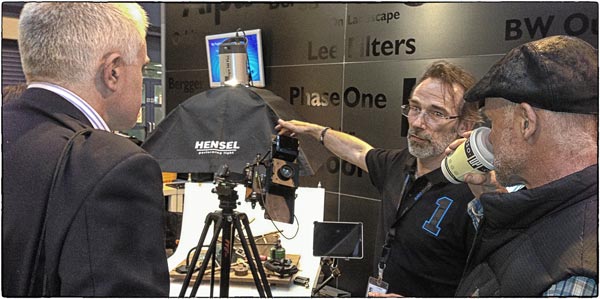 Chris also has a book due to launch surrounding the subject of the pinhole camera, so the four of us had a lot to share and discuss. This was a conversation that buzzed, fuelled by coffee from Paula of Linhof Studio Ltd., for over an hour. The only thing we lacked was time.
It was great having informal access to the anecdotes Jon has amassed over the years and as the lights turned off and we were the last to leave, I even forgot about parting with that GBP 30,000+.
Jon was understandably reserved about his plans for this year regarding his career but for me he'll be the one to watch!
My Wishlist
I left the Focus on Imaging 2013 with a wish list as long as my arm, but here are the best bits I'm currently living without!
Alpa eFinder
A nice little app for iPhone – Alpa eFinder – this is essentially an electronic viewfinder. The iPhone sits on a beautifully engineered bracket that sits on the Alpa 12 max, which is the preferred weapon of choice for serious car photographers.
PNY 480gb Solid State Drives
I like the idea of a Mac compatible Solid State 480gb Drive. You can imagine what that will do for performance. Photographer Andy Kruzcek, a PNY Imaging ambassador, gave a great presentation on his Workflow.
12 colour Canon imagePROGRAF
I became hooked as soon as I witnessed them print off a 2metre still from their machine. Along with the results when we used the Profoto M Light Strip on location of a motorbike shoot, I think we'll be using these a lot more in the future.
Don't forget to catch me on film, see it right here – I look better if you close your eyes, as there wasn't a makeup girl in sight!
Here is the complete Making Of Demented, the custom Kawasaki using Profoto Strip Light